Bridges
See Brilliant Bridges From Border to Border
If there's anything you'll learn during your time in South Dakota, it's that our state doesn't come to play when it comes to the architectural marvels that stretch from bank to bank across the Missouri River. Whether you're traveling across them or see them from afar, the river bridges in South Dakota are quite the sight to behold - and are oftentimes a sign that you're near great dining, shopping, and activities.
While photos can't quite do these beauties justice, there's a great chance that you'll find yourself up-close-and-personal with one (or many) of these Missouri River bridges as you cruise the South Dakota Missouri River region. Learn more about the abundance of Missouri River Bridges throughout South Dakota - some of the most pronounced and iconic South Dakota bridges.
Bridging Western and Eastern South Dakota The Bridges of the South Dakota Missouri River Region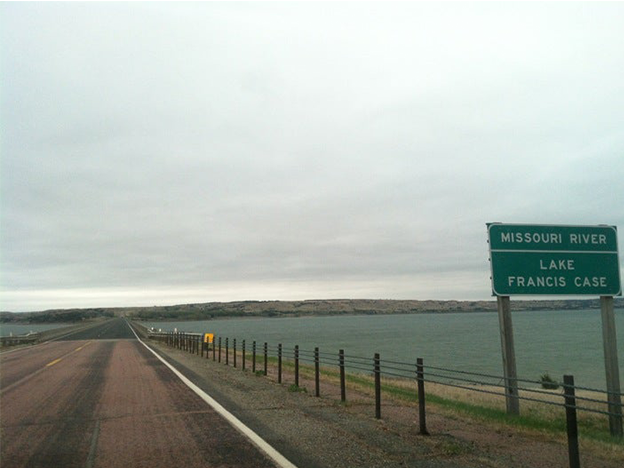 Platte-Winner
Bridge
Burke, SD
Platte-Winner Bridge: Named after the two South Dakota Missouri River communities located nearest to it, Platte-Winner Bridge is South Dakota's longest bridge, coming in at a whopping 5,655 feet long. Towering over Lake Francis Case, Platte-Winner Bridge is also known as Francis Case Memorial Bridge - in honor of former U.S. Senator Francis Case. Having seen its fair share of life over the last 50+ years, Platte-Winner Bridge is on-course for a major overhaul, as local planning specialists plan the development of a new, updated bridge with an anticipated lifespan of over 100 years. Despite its age, Platte-Winner Bridge serves as an homage to the hard work and temerity of South Dakotans and the brilliant Missouri River shores.
Just 11 miles from Platte, SD, and 38 miles from Winner, SD, Platte-Winner bridge truly bridges the gap of opportunity across communities in the Southern Missouri River region of South Dakota, where you'll find superb hunting, fishing, and recreation galore.
---
Lewis and Clark
Memorial Bridge
Chamberlain-Oacoma, SD
Lewis and Clark Memorial Bridge: Believe it or not, while Interstate 90 may run from one end of South Dakota to the other, it only crosses the Missouri River once - and it does so in the most grand way imaginable! Nestled between Oacoma, SD and Chamberlain, SD, you'll find the 2,722 foot long Lewis and Clark Memorial Bridge. Whether you're headed east-bound or west-bound, you're certain to enjoy picturesque views of the Missouri River and Lake Francis Case as you cruise this steel deck giant. Known to some as New Chamberlain Bridge as a result of its bridge counterpart, just North of it, Lewis and Clark Memorial Bridge is commonly known as the bridge between 'East River' and 'West River' in South Dakota.
First opened in 1974, Lewis and Clark Memorial Bridge sees some of the most foot-traffic of any bridge in the state thanks to its prime location near roadside spectacles such as Dignity: of Earth and Sky in Chamberlain and the famous Al's Oasis in Oacoma. On warm summer days or frigid winter days, you'll see fisherman and boaters cruising the Missouri River making the most of the stunning scenery and pristine fishing conditions.
---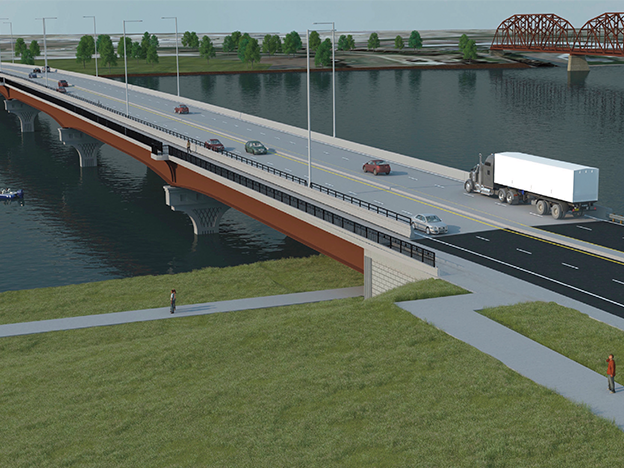 Missouri River
Bridge
Fort Pierre - Pierre, SD
Missouri River Bridge: Twin river cities are quite common in the state of South Dakota, and no example is better apparent than in Fort Pierre, SD and the state's capitol of Pierre, SD. Cut in two by the Missouri River, the Missouri River Bridge serves as the central source of transportation from one town to the other, with gorgeous views for days. From picturesque views of rolling river banks to leafy foliage at popular La Framboise Island, the Missouri River Bridge is perched above Lake Oahe, and the Missouri River's, most revered and traversed aquatic playgrounds.
From tubbing to boating, fishing, and wakeboarding, Ft. Pierre and Pierre are an aquatic paradise, steeped in rich South Dakota heritage. A continual work in progress, the Missouri River Bridge is currently undergoing construction to provide for a more structurally sound future for the thousands of locals and visitors who travel across the bridge each day.
---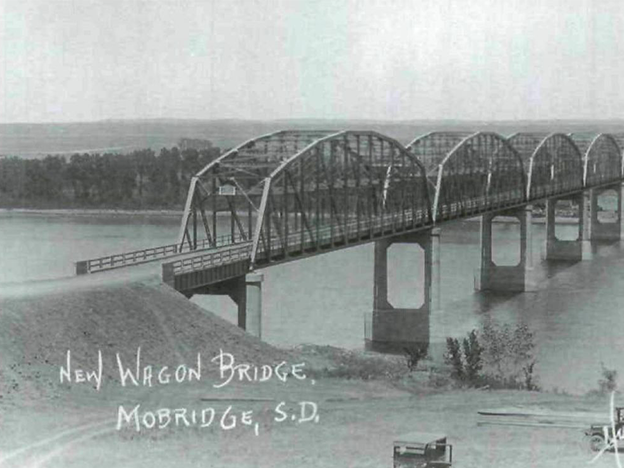 Missouri River
Highway Crossing
Bridge
Mobridge, SD
US-12 Missouri River Highway Crossing Bridge: Located just outside of Mobridge, South Dakota, arches of steel grandeur stretch across the Mighty Mo from the Standing Rock Reservation to the Mobridge city limits. First opened in 1959, the US-12 Missouri River Highway Crossing bridge juts up 160 feet from the floor of the Missouri River, making it one of the tallest, and largest bridges in the world.
Most interestingly, the time zone line distinguishing Mountain Standard Time from Central Standard Time conveniently runs through the middle of the bridge. While time is certain to pass quickly here, you'll find a lax and slow-paced experience waiting for you in Mobridge. Home to sublime fishing conditions and opportunity for outdoor recreation, Mobridge is a popular destination for travelers throughout the year. Located just miles away from the historic Sitting Bull Memorial, this bridge is a must-see sight on any trip along South Dakota's Missouri River.
Visit This Bridge:
Nearby Draws:
Walleye Up Statue
---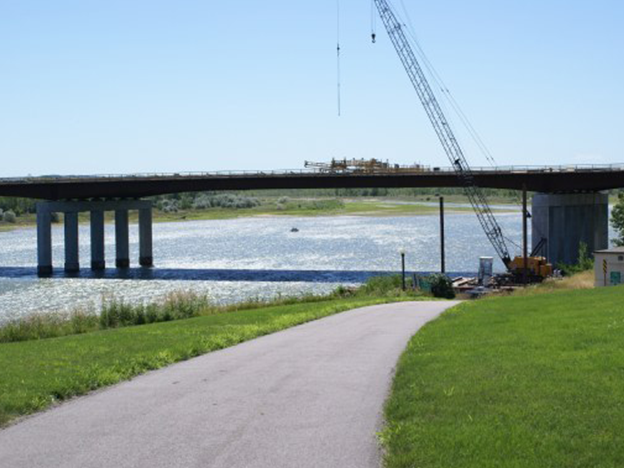 Discovery
Bridge
Yankton, SD
Discovery Bridge: What's cooler than a bridge that connects one side of a river to another? A bridge that connects one state to another! As the bridge to Nebraska from Yankton, South Dakota, Discovery Bridge is one of South Dakota's youngest, and most stunning bridges along the Missouri River. Opened in 2008, this 1,590 foot long, and 74 foot wide bridge is the gateway to fun for travelers, headed North out of Nebraska into South Dakota. Here, abundant fishing, camping, and shopping awaits.
While many people wonder why this bridge is known as 'Discovery Bridge,' the story behind it is actually quite comical and well-known among local cityfolk. Legend has it that the name 'Discovery Bridge' came from a Yankton local who realized that there was enough money in the budget to create a new bridge to replace the aging Meridian Bridge, just 1,000 feet downstream.