Trails
South Dakota is the state of wide open spaces, big skies and massive lakes, traced with thousands of miles of trail systems. Parks are open year-round. We encourage you and your family to take a hike on your next visit to the Missouri Region.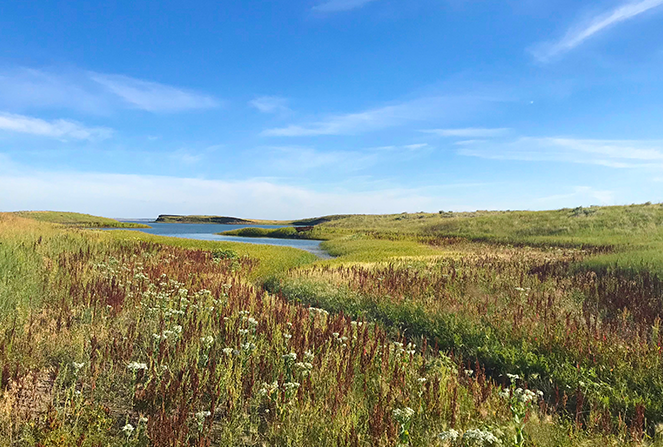 Little Bend Trail
Little Bend Trail is a 6.8 mile loop on the Oahe Lake shore near Pierre. This trail is considered moderately challenging and takes a little over 2 hours to complete. You can hike or bike this trail. Dogs are allowed, but must be kept on a leash at all times. Little Bend is unique because the trail follows a stretch of narrow land jutting out into the Missouri River.
Pierre River Path
The Pierre River Path is a 9 mile out-and-back trail in Pierre following the river shoreline. The route takes a little over 2.5 hours to complete, but the trail is well kept; half of it is paved, making it easy to walk or bike on. The northern part of the trail borders neighborhoods, baseball fields, and part of the downtown area, ending under the ornate train bridge. It also connects to the causeway of La Framboise Island, full of trails and mountain bike paths itself. The southern part of the trail runs into Farm Island, a state park known for wildlife sightings of herons and beavers.
Yankton Trails
The town of Yankton is a paradise for hiking and biking enthusiasts. The Meridian Trail System in Yankton offers over 40 miles of trails filled with sweeping views and historical landmarks. The Meridian Bridge in Yankton is a must-see landmark. Completed in 1924 this was the first bridge to span the entire Missouri River. In 2011, a new bridge was built and the Meridian Bridge is only used for pedestrian use.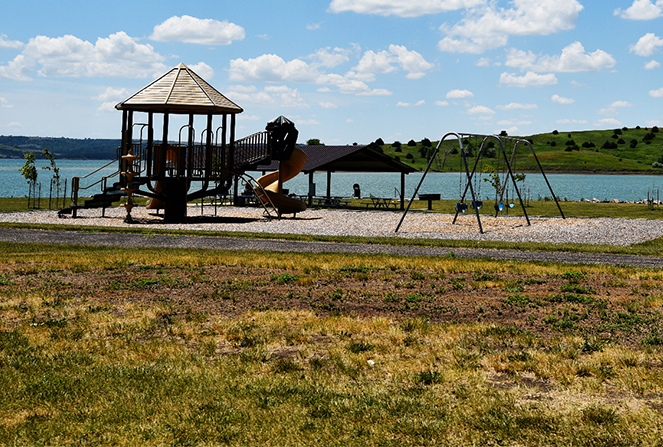 North Point Shore Path
The North Point Shore Path is located at North Point Recreation Area, a perfect hike for the whole family to enjoy! The hike is only 1.2 miles so it takes under thirty minutes to complete. The trail follows the shore line which means you have direct access to the swimming beach and can stop for a dip on your hike.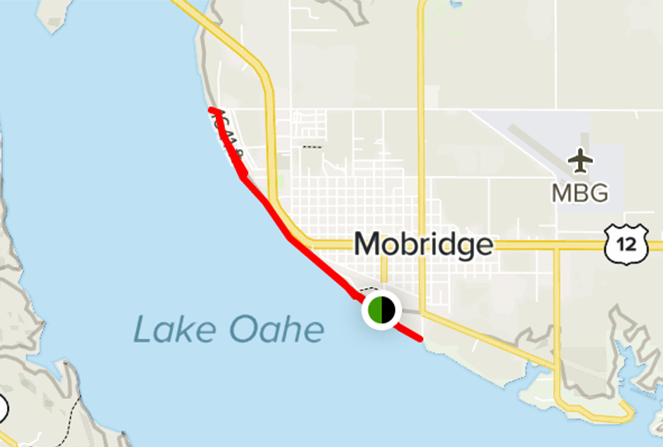 Mobridge Trail
Mobridge Trail is 5.7-mile out-and-back trail near Mobridge. A moderately challenging route, it takes an average of 1.5 hours to complete. An easier hike is the Mobridge Riverfront Walking Path. This asphalt pathway follows the river's edge for over two miles offering lovely views. We recommend hiking this path in the evening to see a beautiful sunset over the waters.
Roam Park Trail
Roam Park Trail is a 2.7 mile out-and-back-trail near Chamberlain. This is an easy route that takes a little over an hour to complete. The scenery is spectacular with a view in every direction. There are park benches along the trail. Once you reach Roam Free Park it is the perfect place to enjoy a nice picnic lunch on the river.
Snake Creek Recreation Area
This 1.6 mile trail near Platte is a quick and easy way to get some exercise while taking in the scenery. The trail follows the shoreline and is extremely lush with vegetation. If you have little anglers in your family, the trail will pass the youth fishing pond where they can perfect their cast before hitting the Mighty Mo!