Cities & Communities
Hometowns Along the Heart of the Missouri River
From Pollock to Chamberlain, Yankton, and everywhere in between, the Missouri River region is dotted with vibrant South Dakota Missouri River towns and communities from border to border, bursting at the seams with rich culture, traditions, people, and so much more. Each bringing their own unique draws and sights to the table, you'll find great people, experiences, and opportunity waiting for you as you explore beautiful Central South Dakota. While no two towns are quite the same, a resounding feeling of Midwestern hospitality courses through the heart of South Dakota's Missouri River towns.
Visit Popular South Dakota Missouri River Towns & Communities
While following the River, you can stay in one of our bigger cities, such as Pierre, Chamberlain or Yankton or enjoy the charm of our many small towns. Many of these places have proud historical significance to the area and the locals are more than generous in sharing their stories and time with you.
Chamberlain and Oacoma
Chamberlain and Oacoma are respectively the Twin Cities of South Dakota, bringing exquisite vistas of the river into view from every angle. Whether it's the people of Chamberlain-Oacoma, or the enormous variety of fun to be had on and off the river, which bisects the two towns, and the State of South Dakota, you'll find adventure and opportunity bubbling under the surface wherever you go.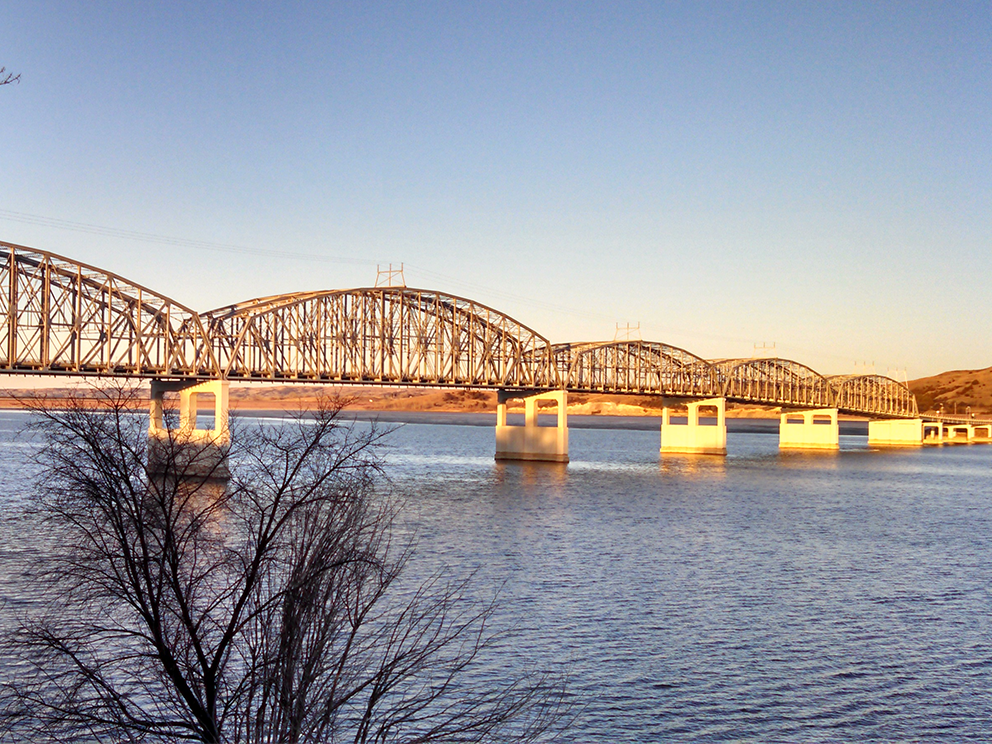 Chamberlain/Oacoma
While in the area, make sure to check out The Lewis and Clark Information Center. Built on the site of the Corps of Discovery Camp, you can climb aboard a replica of the 55-foot Keelboat used by the expedition. More notably, west-bound and east-bound travelers along Interstate 90 are treated to the opportunity of a lifetime as the brilliant display of Native American tradition and modern art known as Dignity: of Earth and Sky is seen rising 50 feet above the ground, perched on a bluff just east of the Missouri River. Whether you pay homage to Dignity from your vehicle or by visiting her, you're certain to feel a sense of rich history and belonging that lets you know you're in South Dakota.
See these popular sights in Chamberlain-Oacoma: Dignity: of Earth and Sky, The South Dakota Hall of Fame, Cedar Shores, Al's Oasis, Lewis and Clark Information Center, Akta Lakota Museum
Search Our Chamberlain Directory
---
Mobridge
The past and the present meet in the beautiful riverside town of Mobridge. Known for its incredible display of modern architecture jutting across the width of the Missouri River, Mobridge's name perfectly describes one of its most defining features: its Missouri River bridges. Bridging Western South Dakota to Eastern South Dakota, Mobridge is home to many friendly folks who are always eager to share the town's unique connection to figures including Lewis and Clark, Sitting Bull, Sacagawea, and more. In fact, visitors can even pay homage to figures like Sitting Bull and Sacagawea by visiting their monuments just outside of town by the Grand River Casino.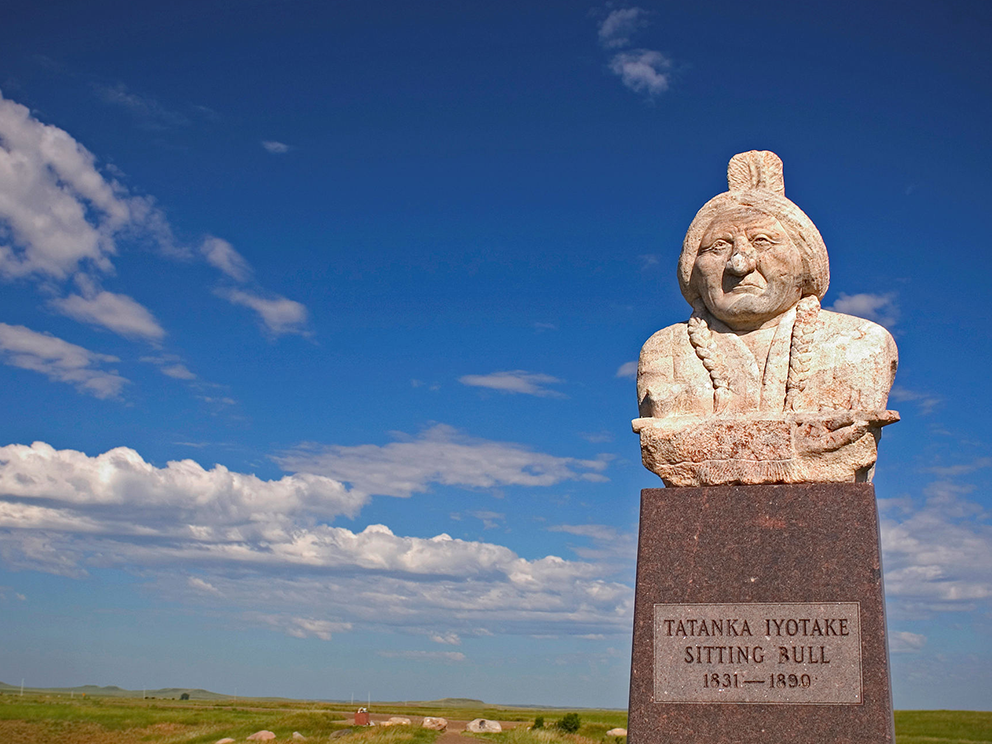 Mobridge
Well-known for its sublime fishing conditions, Mobridge is a very popular destination for fishermen all throughout the year. Whether you fish from the shores, by boat, or by ice shack, you'll indulge in fishing conditions like no other. The fishing in Mobridge is so good that a statue of a cowboy riding a walleye was recently unveiled at the edge of Main Street, along the Missouri River. Bringing the perfect balance of day's past to present day, you're certain to feel at home in Mobridge - no matter if you're staying for the afternoon or a week.
See these popular sights in Mobridge: Sitting Bull Monument, Sacagawea Monument, Arikara Lodge Replica, Walleye Up Statue, Indian Creek Recreation Area, Pheasant Drive-In, Rick's Cafe, Scherr-Howe Arena
Mobridge Itinerary Listings
---
Pierre
South Dakota's capitol city of Pierre sits on the banks of beautiful Lake Oahe and the Missouri River, making for a supreme vacation destination. Home to popular sites like The Cultural Heritage Museum, South Dakota Discovery Center and spectacular outdoor sites like La Framboise Island, and the Lower Oahe Recreation Area, Pierre is the opportune destination for those looking to experience all the fruits South Dakota's Missouri River Region has to offer.
Pierre
Home to the Oahe Dam, anglers find great ease reeling in their daily limit, while hunters find safe haven in the paradise that is the hunting wilderness that carves out the surrounding area. Add in pristine local culture, live history, rich dining and lodging options, and the friendliest folks around, and you'll easily see why Pierre is at the top of our visitors' lists when traveling to the area. While you're here, don't forget to take a walk down Main Street, spend the night at Oahe Speedway, or spend an afternoon cruising the Trail of Governors and South Dakota State capitol. The opportunities are truly endless when you're in the company of spectacular surroundings, and even more spectacular opportunities.
See these popular sights in Pierre: South Dakota Cultural Heritage Center, La Framboise Island, Lower Oahe Recreation Area, South Dakota State Capitol, South Dakota Discovery Center, Downtown Pierre, Zesto Ice Cream, Trail of Governors
Pierre Itinerary Listings
---
Winner
Located under 40 miles West of Lake Francis Case, the town of Winner welcomes you to experience its warm hospitality, small-town charm, and melting pot of opportunity. Known for its significant hunting, Winner is a popular destination for travelers all throughout the year. Whether you're in the area hunting deer or pheasant in the fall, or taking in the community on warm summer days, your needs will surely be satisfied on a trip to Winner.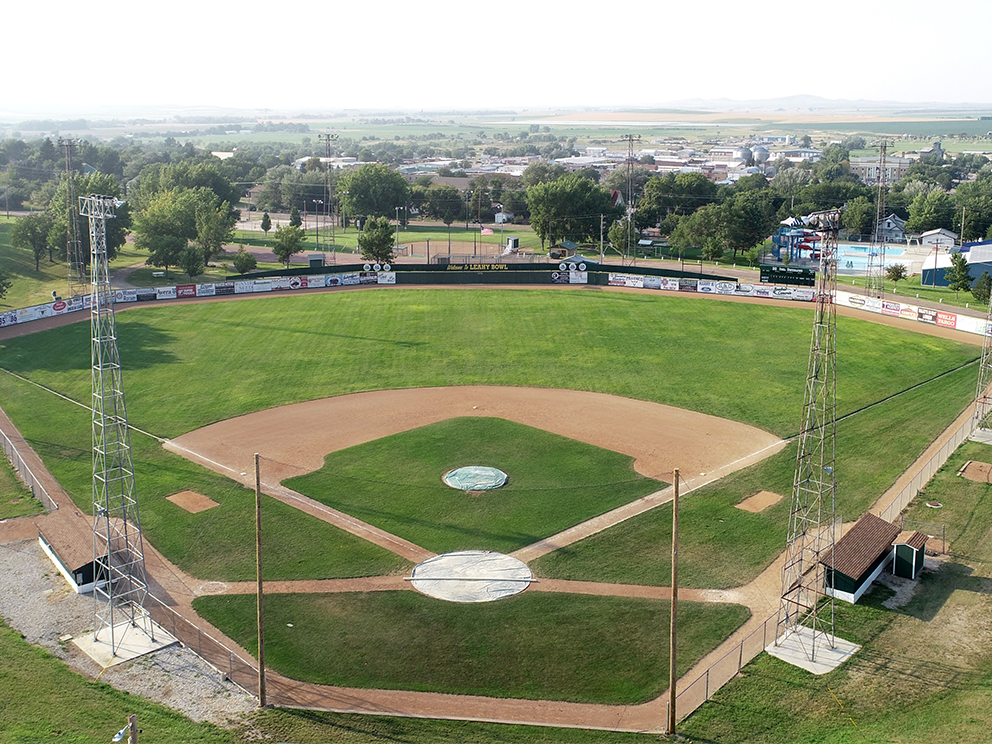 Winner
From evenings spent at the Winner Drive-In to days spent relaxing at the Winner City Pool, Winner serves up heaping piles of fun for all, accented by an atmosphere that feels as welcoming as ever. Home to great lodging, dining, and shopping, Winner is a quintessential stop on any journey throughout South Dakota's Missouri River Region.
See these popular sights in Winner: Winner Drive-In, PIX Theater, Winner Community Playhouse, Tripp County Historical Society Museum, Winner City Pool
Winner Itinerary Listings
---
Yankton
Known as the Mother City of The Dakotas, Yankton's prime location along Lewis & Clark Lake and the Missouri River make it a top travel destination for families of travelers looking to enjoy the ideal mix of nature and everyday life. Known for its camping, sprawling bridges, outdoor activities, and lively community scene, Yankton continues to become increasingly popular as visitors have the opportunity to take in its unique atmosphere. From afternoons spent lounging on the banks of the Mighty Mo or Huether Family Aquatic Center to mornings spent learning about local history at sites like the Mead Cultural Education Center and National Field Archery Foundation Museum, you'll find excitement waiting for you around every corner.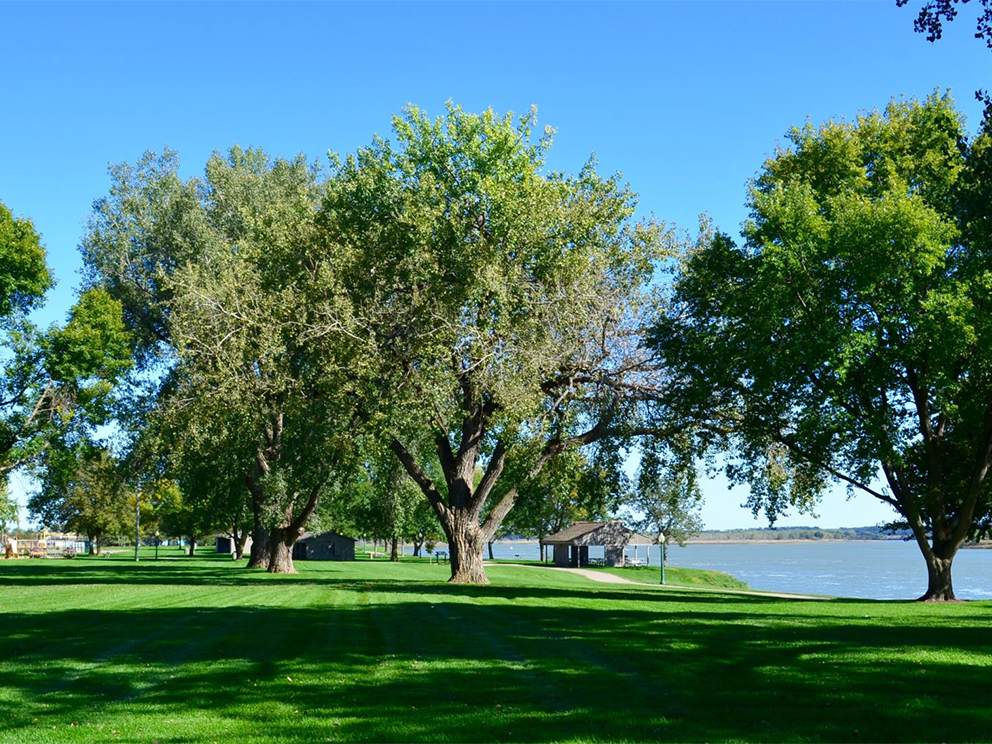 Yankton
Yankton is so exciting that the Lewis & Clark expedition journeyed through this area in 1804, where Meriweather Lewis and William Clark met with local Yankton Sioux on August 27th. Here, the two groups met for several days, making speeches and exchanging gifts in the interest of negotiating peace. Representing a focal moment in the duo's expedition, Yankton has remained a sacred place of peace ever since. Today, Yankton is an outdoor mecca, featuring a wide range of thrilling outdoor activities ranging from archery and boating to hiking, biking, disc golfing, and more.
See these popular sights in Yankton: Dakota Spirit Foundation, Mead Cultural Education Center, The Meridian District, Yankton River Walk, Huether Family Aquatic Center
Yankton Itinerary Listings